Your Graduation Ceremony - One day you will never forget
September Awards Ceremonies are held in the grand setting of St Albans Cathedral
Top 10 for Employability - Times Higher Education 2016
The University of Hertfordshire produces some of the most sought after University Graduates in the UK!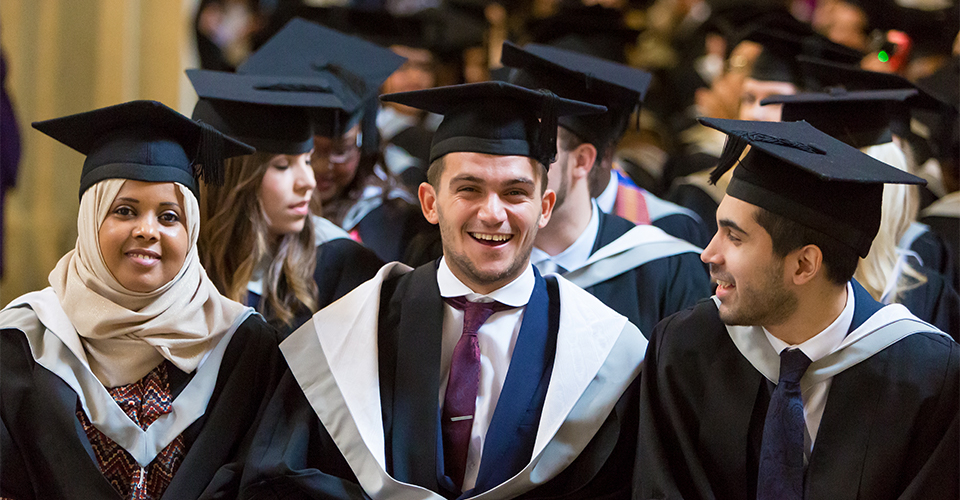 Your Graduation Ceremony - You get to the look the part
Wearing robes is not compulsory but the majority of graduates choose to wear them since the Awards Ceremony is a formal event
Your Graduation Ceremony - Staff and Lecturers
All your lectures and faculty staff will join you in celebrting your graduation
Your Graduation Ceremony - Family and Friends
All students are automatically assigned 2 tickets but more are available upon request
Amazing careers

start here
Every course here at Hertfordshire is designed to help you blaze a trail in your chosen career. Created with direct input from innovative employers, informed by groundbreaking research and backed up with incredible careers support, these really are degrees with a difference.
All the right connections
Our vision is to be internationally renowned as the UK's business-leading University. That means we work with big blue-chip companies, public sector organisations, professional bodies and entrepreneurial smaller enterprises to open up all kinds of exciting employment opportunities for you.
These organisations help shape our courses, offer valuable work placements and give regular talks to share first-hand industry insights. Their input means you'll pick up exactly the skills today's companies need. No wonder they take on so many of our graduates after the studying's done.
Placements that put you ahead
We've a fantastic reputation with both employers and students for our placement opportunities, which range from vacation work to game-changing, full-year placements. Every year hundreds of students take huge strides forward
in their career by getting involved – many even land their first graduate job based on their placement's success.
Watch our work experience video to find out more at go.herts.ac.uk/workexperience.
Outstanding careers support
CareerHub is our world-class careers portal, updated daily to give you 24/7 access to expert careers support, online resources and the latest graduate, placement and work experience jobs.
It's run by our Careers, Employment and Enterprise Service, a friendly, expert team on hand to give you all the career and recruitment support you need. They also run a packed schedule of events, workshops and fairs, honing your skills and putting you face-to-face with great employers. go.herts.ac.uk/careers
Nurturing new entrepreneurs
There's a real entrepreneurial spirit here at Hertfordshire and the skills you'll learn can also help you get a brand new business off the ground. We have dedicated enterprise advisers who can give you plenty of great advice, whether you want to work as a freelancer, start your own company, or set up a social enterprise or not-for-profit venture.
We also run inspirational speaker events, an annual competition for budding entrepreneurs and a business start-up programme to help you fast-track your ideas with the support of mentors. You can even grow your business alongside your studies by basing yourself in our Incubation Centre. Find out lots more at go.herts.ac.uk/enterprise.
Here for you, long after you leave
Those first years after university can really define your future, so our Careers, Employment and Enterprise team
offer you support for two years after you graduate, or three years if you're starting up a business.
You'll also automatically become a member of our Alumni Association, giving you great opportunities to network, get
to know other graduates working in your field and hear about new career opportunities. Find out more and read our graduates' stories at go.herts.ac.uk/alumni.
Your Graduation Ceremony
Awards Ceremonies are held in the grand setting of St Albans Cathedral – a perfect location for this formal event where you will be able to celebrate your achievements together with fellow graduates, friends and family.
You will start the day at the Alban Arena, our pre-Ceremony venue, where you will collect tickets and robes and will have your photos taken. The Cathedral is a 10-minute walk from the Alban Arena. Make sure you give yourself enough time – there may be queues at the Alban Arena and you will have to walk across to the Cathedral in time for the Awards Ceremony.